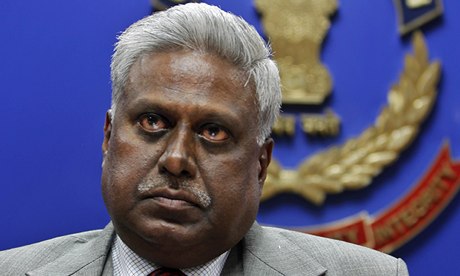 One of India's most senior policemen has been forced to apologise after comparing rape to unlicensed betting which, because it cannot be prevented, should be enjoyed.
Ranjit Sinha, who leads the Central Bureau of Investigation in India, made the remarks during a discussion at a conference on Tuesday night. India is struggling with a wave of violence against women which has prompted widespread debate about social attitudes and has damaged its image overseas.
In December last year, a 23-year-old student died of internal injuries suffered during a gang rape by six men after she boarded a private bus in south Delhi. Four men were sentenced to death for the attack in September at a special fast-track court in the capital. A juvenile has also been convicted. The alleged ringleader of the assault hanged himself in prison.

Further incidents of multiple rapes or sexual assaults are now regularly reported by Indian media.
"Do we have the enforcement?" Sinha said after being asked if sports betting, which is banned in India but widespread, should be legalised. "It is very easy to say that if you can't enforce it, it's like saying if you can't prevent rape, you [should] enjoy it."
His remarks outraged campaigners and politicians.
Kavita Krishnan, an activist with the All India Progressive Women's Association, called for Sinha to step down.
"How can he remain the head of India's premier investigation agency?" she said.
Brinda Karat, leader of the Communist party of India (Marxist), said Sinha's comments were offensive to women everywhere.
"It is sickening that a man who is in charge of several rape investigations should use such an analogy," Karat told reporters. "He should be prosecuted for degrading and insulting women."
The CBI, which has a role similar to that of the Federal Bureau of Investigation (FBI) in the US, was set up to fight corruption by government employees, but also investigates other important cases, including murder, rape and terrorism.
Local law enforcement officials have repeatedly been criticised for their attitudes towards sexual violence.
Indian police estimate that only four out of 10 rapes are reported as officers often fail to take complaints of sexual violence seriously. Victims are also often stigmatised or ostracised by their own communities following an attack.
A recent study of 40 rape cases tried by district courts in Delhi that resulted in acquittals found that more than half were due to police failure to perform adequate investigations.
Sinha later apologised and said he had "
just used a proverb to make a point
."
Under intense public pressure, the Indian government stiffened rape laws in March, bringing in a death penalty for repeat offenders and for those whose victims are left in a "vegetative state". New offences of stalking and harrassment were added.
The row comes at a bad time for the CBI, widely accused of acting as a tool for the government to pressure political rivals.
Do you agree with this statement?
Thanks to Kayla Chanai for prompting me to check this out!
Source: The Guardian